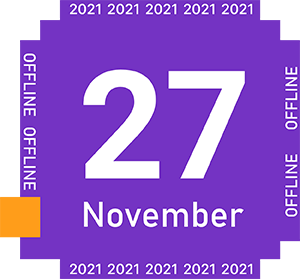 NFTs explained
On June 17, 2021, at The Conference.NFT our smart speakers will explain what this all NFT buzz is all about, why humanity needs it and why it is valuable.
Count me in
The top blockchain companies and Tier 1 media are going crazy about this new thing - NFT.
What the hell is that?
Find out at The Conference.NFT! We've found people who knows everything about NFTs! They've created their own NFTs and helped others to issue their owns.
We'd be best off putting them all on an NFT because each one is a unique and valuable part of the community… :)
Speakers
Speakers from our previous events
Agenda
June 17, 2021
16:00 – 16:10 CET 
OPENING
---
16:10 – 16:50 CET
SECTION I
Discussion panel: What are NFTs? Is it a bubble or here to stay?
Moderator: Steve Mc Garry, GrowYourBase
Participants: 
Aave, Stani Kulechov
Polygon, Shreyansh Singh
Pylons, Michael Sofaer
Netflix, Tejas Chopra
Waves, Sasha Ivanov
16:50 – 17:05 CET
NFTs beyond the hype, the good and bad cases
Arkane Network, Yan Ketelers
---
17:05 – 17:45 CET
SECTION II
Discussion panel: NFTs Now. Artists, marketplace and investor talk about the current ecosystem.
Moderator: Peg Samuel, Anrkeyx
Participants:
Visual Artist, NFT Artist, Olive Allen
Techism Artist, Krista Kim
Mintable, Zach Burks
Gumi Cryptos, Miko Matsumura
Cassiopea Services, Stefania Barbaglio
17:45 – 18:00 CET
NFT originality proof with AI and NFT Tokenization Launchpad for Artists
Oraichain, Chung Dao Ph.D
18:00 – 18:15 CET 
Driving value to the NFT marketplaces through curation, archiving and artist support.
Golem Network, Maria Fernandez
---
18:15 – 19:00 CET
SECTION III
Discussion panel: Leading marketplaces. Competitors or ecosystem?
Moderator: Joel Dietz, Artwallet
Participants:
ArtBlocks, Erick SnowFro
Nifty Gateway, Miguel Romero
The Sandbox, Sebastien Borget
Async Art, Conlan Rios
ConsenSys, Mattison Asher
19:00 – 19:05 CET

Meme.com, Mattias Tyrberg
What is the value of a meme? The Journey from NFTs to memecoins"
19:05 – 19:20 CET
What is NFTmall, its benefits and the way it envisions bringing NFT into the masses.
NFTmall, MD Rakib Ahamed
19:20 – 19:25 CET
Burning NFT. How we at NFT Fantasy League want to tackle the liquidity and value of NFTs.
CyberTime Finance, Dmitriy Boshenyatov
---
19:25 – 20:00 CET
SECTION IV
Discussion panel: Legal implications of NFTs
Moderator: Guy Maevsky
Participants: 
License.Rocks, Daud Zulfacar
CryptoLaw Partners, Gordon Einstein
Bull Blockchain Law, Andrew Bull
20:00 – 20:10 CET
NFT legal trends
Guy Maevsky
Email:
*Promise! No spam or sharing your data with 3rd parties
** I agree with Privacy Policy
By using this website, you agree to the collection and use of information in accordance with this policy and present Terms and Conditions. Please read our privacy policy carefully to get a clear understanding of how we collect, use, protect or otherwise handle your Personally Identifiable Information in accordance with our website and present Terms and Conditions. We will not use or share your information with anyone except as described in this Privacy Policy. INFORMATION COLLECTION When ordering or registering on this site, as appropriate, we may ask you to provide us with certain personally identifiable information that can be used to contact or identify you. Personally identifiable information may include, but is not limited to, your name, email address, mailing address, phone number or other details to help you with your experience in relation of participation in the Conference ("Personal Information"). We may use the information we collect from you when you register, make a booking, respond to a survey or marketing communication, surf the website, or use certain other site features in the following ways: 1. to improve our website in order to better serve you. 2. to allow us to better service you in responding to your customer service requests. 3. to administer a contest, promotion, survey or other site feature. 4. to quickly process your bookings and 5. to send periodic emails regarding your order or other products and services. 6. to send statements and invoices to you; 7. to send you general (non-marketing) commercial communications; 8. to send you email notifications which you have specifically requested 9. to deal with enquiries and complaints made by or about you relating to the website, present Terms and Conditions and the Conference; 10. to keep the website secure and prevent fraud. This data may include information such as your computer's Internet Protocol ("IP") address, browser type, browser version, the pages of our website that you visit, the time and date of your visit, the time spent on those pages and other statistics. COOKIES We use "cookies" to collect information. You can instruct your browser to refuse all cookies or to indicate when a cookie is being sent. A cookie is a file containing an identifier (a string of letters and numbers) that is sent by a web server to a web browser and is stored by the browser. The identifier is then sent back to the server each time the browser requests a page from the server. This enables the web server to identify and track the web browser. We use both "session" cookies and "persistent" cookies on the website. Session cookies will be deleted from your computer when you close browser. Persistent cookies will remain stored on your computer until deleted, or until they reach a specified expiry date. We will use the session cookies to: keep track of items in your navigation on the website; prevent fraud and increase website security. We will use the persistent cookies to: enable our website to recognise you when you visit; keep track of your preferences in relation to your use of website. THIRD PARTY LINKS We may include or offer third party products or services on our website. These third party sites have separate and independent privacy policies. We therefore have no responsibility or liability for the content and activities of these linked sites. DISCLOSURES We may disclose your Personal Information to any of our employees, officers, agents, suppliers or subcontractors insofar as reasonably necessary for the purposes set out in this Privacy Policy. In addition, we may disclose your Personal Information: 1. to the extent that we are required to do so by law; 2. in connection with any ongoing or prospective legal proceedings; 3. in order to establish, exercise or defend our legal rights (including providing information to others for the purposes of fraud prevention and reducing credit risk); Except as provided in this privacy policy, we will not provide your Personal Information to third parties. CHILDREN'S PRIVACY Our services related to the Conference does not address anyone under the age of 18. CHANGES TO PRIVACY POLICY We may make changes and updates to our Privacy Policy. We will post all changes on this website. We encourage you to review this policy frequently so that you are aware of any changes in how we collect and use the information you provide us. YOUR RIGHTS You may instruct us not to process your Personal Information for marketing purposes, by sending an email to us at hello@theconference.exchange. In practice, you will usually either expressly agree in advance to use of your Personal Information for marketing purposes, or we will provide you with an opportunity to opt out of the use of your Personal Information for marketing purposes. CONTACT If you have any questions about this privacy policy or our treatment of your Personal Information, please write to us by email to hello@theconference.exchange.By using this website, you agree to the collection and use of information in accordance with this policy and present Terms and Conditions. Please read our privacy policy carefully to get a clear understanding of how we collect, use, protect or otherwise handle your Personally Identifiable Information in accordance with our website and present Terms and Conditions. We will not use or share your information with anyone except as described in this Privacy Policy. INFORMATION COLLECTION When ordering or registering on this site, as appropriate, we may ask you to provide us with certain personally identifiable information that can be used to contact or identify you. Personally identifiable information may include, but is not limited to, your name, email address, mailing address, phone number or other details to help you with your experience in relation of participation in the Conference ("Personal Information"). We may use the information we collect from you when you register, make a booking, respond to a survey or marketing communication, surf the website, or use certain other site features in the following ways: 1. to improve our website in order to better serve you. 2. to allow us to better service you in responding to your customer service requests. 3. to administer a contest, promotion, survey or other site feature. 4. to quickly process your bookings and 5. to send periodic emails regarding your order or other products and services. 6. to send statements and invoices to you; 7. to send you general (non-marketing) commercial communications; 8. to send you email notifications which you have specifically requested 9. to deal with enquiries and complaints made by or about you relating to the website, present Terms and Conditions and the Conference; 10. to keep the website secure and prevent fraud. This data may include information such as your computer's Internet Protocol ("IP") address, browser type, browser version, the pages of our website that you visit, the time and date of your visit, the time spent on those pages and other statistics. COOKIES We use "cookies" to collect information. You can instruct your browser to refuse all cookies or to indicate when a cookie is being sent. A cookie is a file containing an identifier (a string of letters and numbers) that is sent by a web server to a web browser and is stored by the browser. The identifier is then sent back to the server each time the browser requests a page from the server. This enables the web server to identify and track the web browser. We use both "session" cookies and "persistent" cookies on the website. Session cookies will be deleted from your computer when you close browser. Persistent cookies will remain stored on your computer until deleted, or until they reach a specified expiry date. We will use the session cookies to: keep track of items in your navigation on the website; prevent fraud and increase website security. We will use the persistent cookies to: enable our website to recognise you when you visit; keep track of your preferences in relation to your use of website. THIRD PARTY LINKS We may include or offer third party products or services on our website. These third party sites have separate and independent privacy policies. We therefore have no responsibility or liability for the content and activities of these linked sites. DISCLOSURES We may disclose your Personal Information to any of our employees, officers, agents, suppliers or subcontractors insofar as reasonably necessary for the purposes set out in this Privacy Policy. In addition, we may disclose your Personal Information: 1. to the extent that we are required to do so by law; 2. in connection with any ongoing or prospective legal proceedings; 3. in order to establish, exercise or defend our legal rights (including providing information to others for the purposes of fraud prevention and reducing credit risk); Except as provided in this privacy policy, we will not provide your Personal Information to third parties. CHILDREN'S PRIVACY Our services related to the Conference does not address anyone under the age of 18. CHANGES TO PRIVACY POLICY We may make changes and updates to our Privacy Policy. We will post all changes on this website. We encourage you to review this policy frequently so that you are aware of any changes in how we collect and use the information you provide us. YOUR RIGHTS You may instruct us not to process your Personal Information for marketing purposes, by sending an email to us at hello@theconference.exchange. In practice, you will usually either expressly agree in advance to use of your Personal Information for marketing purposes, or we will provide you with an opportunity to opt out of the use of your Personal Information for marketing purposes. CONTACT If you have any questions about this privacy policy or our treatment of your Personal Information, please write to us by email to hello@theconference.exchange.
Thank you for subscribing!
Partners
Thanks to all these organizations and the people behind them for helping this crazy event happen. God bless you all, guys :)
Support this absolutely outstanding event
© 2021 All Rights Reserved