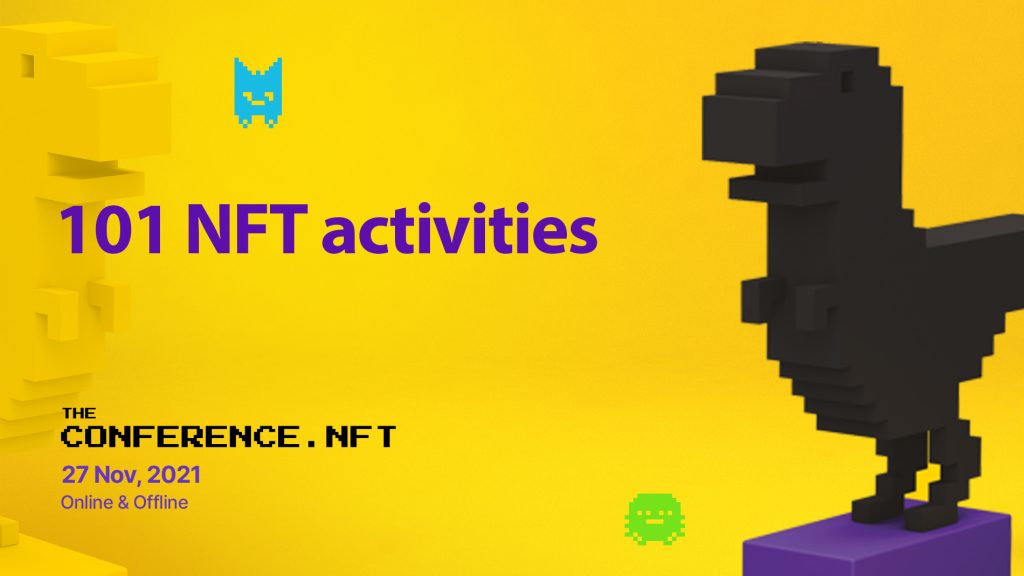 November 24, 2021
The Conference.NFT reveals 100 and 1 NFT activities
The Conference.NFT will take place on November 27, gathering together creators, artists and enthusiasts who would like to deep-dive into the digital sphere which gained a huge popularity this year. More than 25 speakers will present their unique presentations, making everyone know more about their experience and future possibilities of the digital world. You can check our agenda here. 
What's more? The Conference.NFT prepared lots of great activities to surprise everyone! Let's explore:
"Wow, what's there?"
This is a virtual gallery from the winners of our contest. It is a 5-minute speech from Ukrainian artists with exclusive presentations of their NFTs. You can also inspect their arts which will be presented in a gallery zone. Every artist will have a chance to showcase his arts and to communicate with the audience personally.
"What's going on next?"
Here is the launch of a global project – NFT-game with celebrity from the NFT Marketplace Partner of The Conference.NFT – SpaceSeven. The first celebrity to join the SpaceSeven platform is DOROFEEVA – one of the most famous Ukrainian pop singers, a digital music sensation, an artist whose name is known almost all over the world. 
"I bet you you can't impress me more!"
The NFT Marketplace Partner of The Conference.NFT – SpaceSeven will be hosting the workshop for all creators and enthusiasts from 14:00 to 14:30. SpaceSeven is the world's first fully regulatory compliant, e-commerce scale, and user-first open NFT marketplace which is eager to share its exclusive approach and deep insights that will greatly help artists of all sizes and visions. You will learn how to mint arts into NFTs, promote your NFTs, register and set up a SpaceSeven account, and much more!
"No, that doesn't happen in real life!" 
Art auction from a Ukrainian artist. The painting, dedicated to one of the most hot topics nowadays, will be minted on SpaceSeven platform with a LIVE auction. You will get to know more about the process of NFT auctions and how it looks. Feeling excited, huh?
"Guys, I don't have any comments, I am totally shocked…"
Take a walk through the exhibition area where you can meet developers, industry-leading marketplaces and other participants of The Conference.NFT. Share your thoughts, meet like-minded people,  broaden your network… Feel the vibe of the unique atmosphere you are in!
We hope that everyone will feel magically special, get answers to the questions he had, and just spend a fantastic time together with The Conference.NFT. Join to get the last chance to attend: https://2event.com/en/events/1864695#/
© 2021 All Rights Reserved